Palmilla in Los Cabos Mexico is a one of a kind luxury resort; it is part of the One and Only chain of luxury hotels. One and Only Palmilla guest rooms and restaurants all have spectacular views of the Sea of Cortez. Service levels are very high. Your comfort and needs are the number one concern of the staff. My wife and I have visited some of the finest resorts in the world, and would rank One and Only Palmila one of the best. We enjoyed four nights at the Resort and are looking forward to our next visit.

One and Only Pamilla accomodations are very comfortable. All have restfull daybeds on their balconies and patios, great for reading or just watching the waves. The resorts rooms are divided into north and south sections. The rooms to the north of the main building overlook a rocky beach and have views over the water of the coastal area of San Jose' del Cabo. On the southern side of the resort Palmilla offers a few rooms that are very close to the beach and another group that are set back from the surf by a green belt. These rooms offer views of the beach, crashing waves agains rocks and the Sea of Cortez.

(Update) Complimentary wireless internet service is now available throughout the entire property, giving you high speed access as you enjoy the resorts lovely grounds.
---

Palmilla's Latest Awards


Condé Nast Traveler – 2013 Readers' Poll The Top 270 Spas – #8 in Top 25 Spas, Mexico and Central America
Conde Nast Traveler – 2013 Gold List – 96.3 Readers' Choice Rating - Los Cabos Hotels and Resorts
Travel+Leisure – 2013 500 World's Best Hotels – 91.14 Readers' Choice Rating - Best Hotels in Mexico


---
An important warning needs to be made. The beach areas can be dangerous. The waves are very unpredictable. A calm, one foot swell can become five to ten feet in just seconds. Read below about my One and Only close wave encounter. A local/public swimming beach is available at the northern end of the resort. This is the only safe place to enter the water.

The two restaurants, C and Agua, are both excellent. Both offer a wonderful mix of Mexican flavors. Celebrity chef Charlie Trotter is responsible for the menu at C Restaurant and the excellent food at Agua makes your dinning decisions difficult. We enjoyed every meal.

The One and Only Spa blends both Mexican and Asian cultures and offers 13 private treatment villas designed for one or two people. Palmilla also offers a state of the art fitness center and daily yoga either in the yoga garden or overlooking the water. My Wife has visited some of the finest spa and says the facilities were very good, but the treatments was only average.

Two inviting pools are available, one family and one adults only. Both have infinity edges that blend into the Sea of Cortez. Both also offer bar & food service. Pool staff is constantly waiting on you to maximize your comfort. The Jack Nicklaus designed Palmilla Golf Course offers 27 holes that also overlook the sea. Cabo San Lucas area is also known to offer some of the worlds finest sport fishing.

We didn't go into Cabo San Lucas on this trip, but we did visit two restaurants in San Jose' del Cabo. We had a great meal at Mi Cocina located in the Casa Natalia Hotel. Also enjoyed Tequila Restaurant. The town of San Jose is very lovely with shopping and restaurants, it's what a Mexican town should be, more so than Cabo San Lucas.

One & Only Pamila Resort is a great destination. Rates are expensive, so save up, it is worth it!!! Enjoy the photos below.
---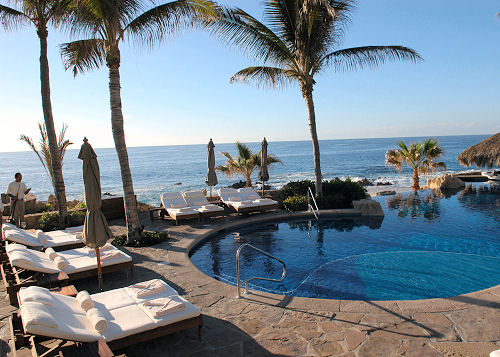 The Adult pool is beautiful. Seating can be limited since early risers often place books and magazines on the lounge chairs claiming them for later in the day. Pool butler will attentive to your every need.
---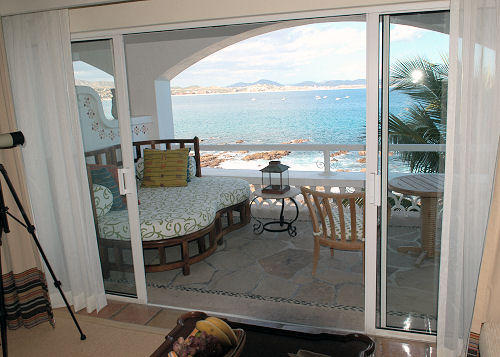 Our room had a beautiful balcony with a daybed loaded with pillows, and a lovely table for two. Rooms also have spotting scopes for watching the sealife and other activity. Each evening we found the candle lantern burning and casting a lovely glow across the balcony.
---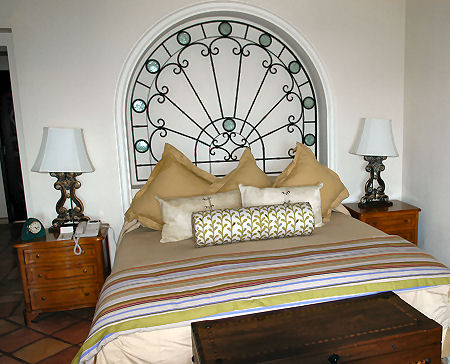 Our room was very large and comfortable. And as expected staff was always available to provide even the smallest service. It would have been nice to sleep with the balcony doors open but the surf was a bit to loud.
---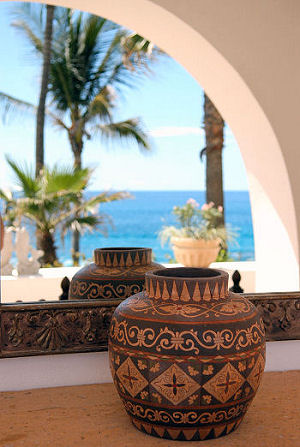 ---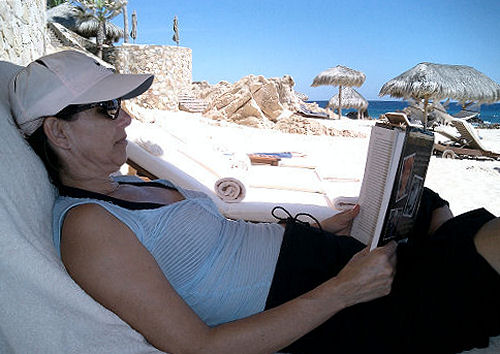 Just below the adult pool area is a very comfortable beach area with lounge chairs and shade. And don't worry, the pool staff won't forget about you..... Again stay out of the water, the surf is very dangerous. I watched as a wedding couple having photos taken got soaked by a monster wave that came out of nowhere.
---
We spent hours enjoying our spot on the beach at Palmilla. This is an excellent resort for getting away from it all. Since One and Only Palmilla is the finest beach resort near Los Angeles it tends to attract some celebrity types. Several were visiting while we were their but they didn't bother us.
---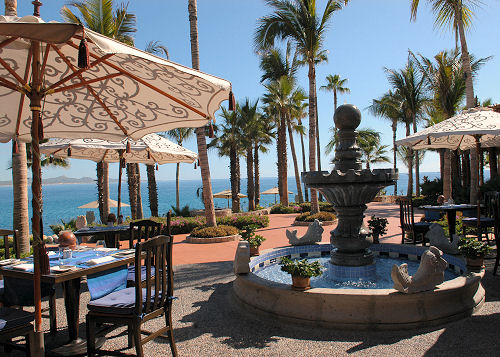 Agua Restaurant offers great food in a beautiful atmosphere. You can sit around the fountain or inside away from the sun, but not cutoff from the spectacular views.
---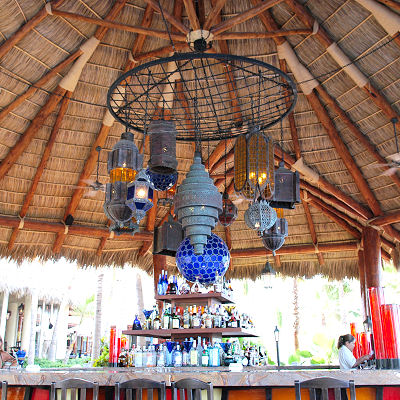 Agua Restaurant Bar, located right beside the family pool, offers excellent drinks and snacks. In the evening the unique light fixtures cast a warm glow.
---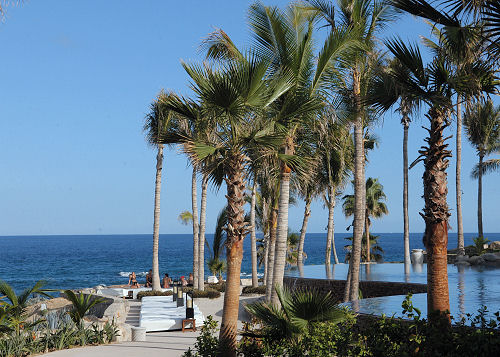 Family pool area had only a handfull of children during our visit. It's much larger than the adult pool.
---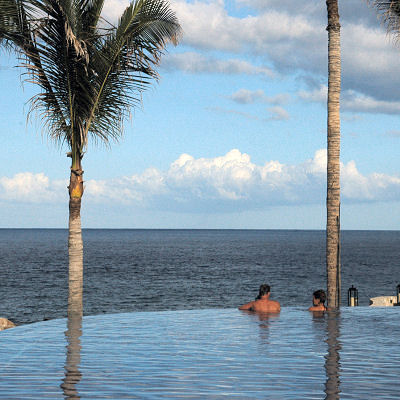 ---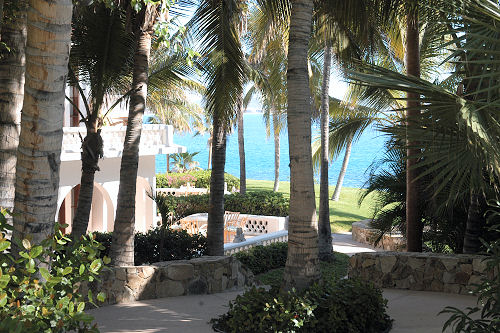 The grounds are all well maintained and peaceful.
---
Our balcony was always the perfect spot for an afternoon nap.
---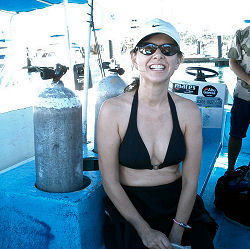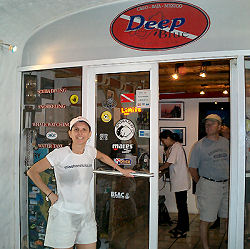 Pamela goes on a Scuba Dive with DEEP BLUE in Cabo San Lucas.
---
Plenty of lounge chairs were available for sun worshipers along the northern side of the resort.
---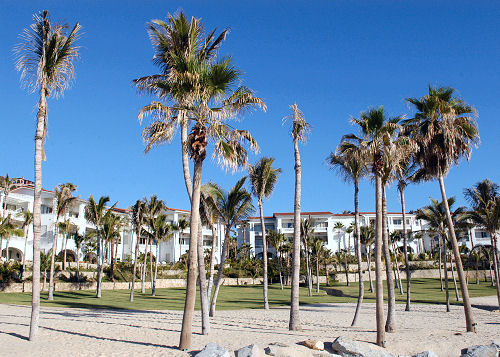 Rooms along the southern side of the resort overlook a grassy area then out to the ocean.
---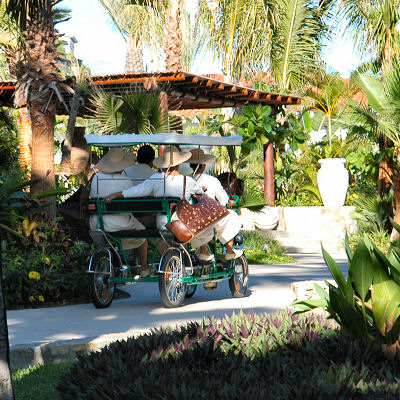 Maid's at Palmilla travel the grounds in a cute peddle car. They also don't use those big ugly carts; they carry a very cool leather bag with all their stuff.
---
---
Can't think of a better way to spend the day!
---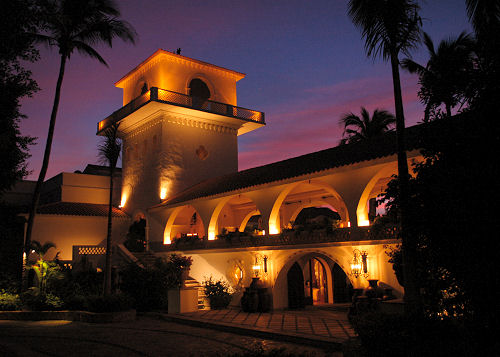 We had a great stay at Palmilla. We can't recommend it more highly.
---
MySummerVacation.com - Home